As most of you know by now Google Reader will retire on July 1, 2013. That is in 11 days!
I'm not one to remain in complete denial for long and wait till, POOF, my RSS feeder has completely disappeared, taking with it all of those precious saved blogs.
So in March I did a Google search and asked hubby what to use. My Google search showed me that a lot of quilters were inclined to go for Bloglovin. Hubby advised me to go for Feedly. On hindsight, he advised me well! Lucky for me, he helped me import my feeds from Google Reader. Making the transition real easy for me.
I thought I would be sad losing Google Reader but actually I'm not. I love my Feedly
. I love the simple and clean interface. It is so easy to use. The card view – to check out all the posts - is the greatest feature. It is kind of like having my own eMagazine.
I can read all my favourite blogs on my computer or iPad. When I'm waiting somewhere, – and that happens a lot –, I can even keep up with all your blog posts by checking my Feedly app on my iPhone.
It reads like an eMagazine. You just scroll through. Click on 'today' and you see what has been published recently.
You can categorize. I've got all my favourite American, Australian, Dutch and European blogs categorized. You don't want to see my index though. I've got 12 other categories and follow 361 blogs, oops!
When you have finished reading a post, you can share it, and/or delete it from your unread list. You can even safe posts to read later. Love this feature. It is great to be able to access your favourite posts in Feedly.
Also finding a blog via Feedly is super easy. Just click on 'Add content' in the left sidebar, and a search bar will pop up on the right. From there you can input specific blogs or search subjects. You can also copy the URL from the site or blog and paste it in the search bar. Easy peasy!
So if you haven't found your RSS feeder, maybe you want to consider Feedly.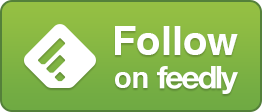 You can also add a Feedly button to your site. Make it easy for me to follow your blog. If you want to follow me, just click on the Feedly button in the left column.
Do let me know if you are following me
! Just click on this toolbar, which you will find also in the left column.
If you happen to choose for Feedly, let me know!