A little surprised and tickled Tuesday. My day ended a little different than I had expected. Again, I've let myself be surprised by someone.
I'm enjoying my yoga & meditation. I'm thankful I've found a yoga school nearby.
The only thing I wish for is more flexibility
Wednesday I met up with Berna and picked-up my DJ again. I've let myself be distracted. It was good to sew again. The Wednesday also brought some bad news but I'm grateful that I've been able to bounce back quickly and not ponder too long why things aren't happening as I had hoped.
Thursday left a big grin. One of the reasons was being able to take this shot.
What have I learned? People suffer because they are caught in their views. As soon as we release those views, we are free and we don't suffer anymore' ~ Thich Nhat Hanh
Friday, I met a person who has left a lasting impression. I'm on an endeavour and I'm hoping she will be my catalyst to make some choices. Caregiving during the last stage of life not only fascinates me, but it is also gives me energy. Everyone has a purpose and I think my purpose is somehow to be involved in end-of-life care. Grief, loss and bereavement are other themes that keep popping up throughout my life. Conversations about our desires for end-of-life care are very uncomfortable for all of us. I however thrive on these conversations. It also fascinates me why we are reluctant to think about our own mortality, and that of our loved ones. The form, shape of this endeavour is still a little unclear, but I think I've found my destiny.
The weekend was a bliss. I enjoyed quilting.
I'm happy with my new thimble.
Completely enraptured with the TV-series Doc Martin. Finished watching season 3. Wondering if they will ever get married? I mean Louisa Glasson & Doc Martin Bamford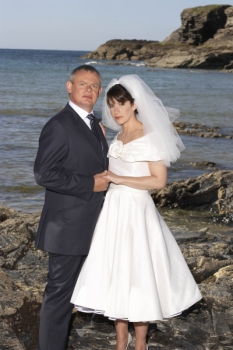 Doc Martin is a British television comedy drama series starring Martin Clunes in the title role. What a great character he depicts. The show is set in the fictional seaside village of Portwenn and filmed on location in the village of Port Isaac, Cornwall, United Kingdom. Completely jubilant after reading that there will be a sixth series, which will be filmed in 2013.
Grotere kaart weergeven
Sunday afternoon I visited Juud. This time the focus was on patchwork.
Got a needle between my lips
Finally gotten all the baby Janes sewn together. 207 blocks to go!!
Finally grasping this concept 'Letting go gives us freedom, and freedom is the only condition for happiness' ~Thich Nhat Hanh
This is my new mantra!